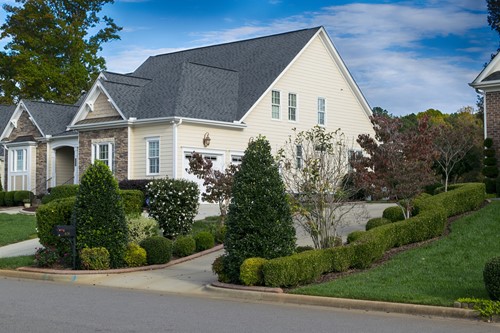 If you're looking to improve curb appeal, don't forget your driveway. The driveway is the entrance to your home long before you step inside—the first first impression you can make. While many see their driveways as purely utilitarian features used to get in and out of the garage or parking area, the driveway can have immense potential for boosting your curb appeal with some easy upgrades.
Here are the top 3 ways to beautify your driveway and increase your curb appeal:
Define With a Border
Adding a border to the edges of your driveway is a simple way to enhance the entire view. If you choose a contrasting material for the driveway edges, it will create a sense of definition between the driveway and the surrounding landscape and increase safety. Adding a border will make the boundaries of the driveway easier to see for drivers and pedestrians alike. As well as separate the driveway from its surroundings, a border will also help draw the eyes forward toward the home. Brick is a timeless and easy-to-install option for driveway borders, but concrete blocks and Belgian blocks are also common and durable choices. Adding a border is a project you can even DIY as long as you have the right tools, which will save you money to spend on other upgrades you might need.
Light It Up
Clearly lighting the driveway is crucial for curb appeal and for safety. Depending on the design and layout of your driveway you have plenty of options for adequate lighting. You don't need to go over budget, either. Many outdoor path lighting options are solar-powered and will save you money compared to traditional lighting setups. You can even carry the style of the home's architecture and decor through your lighting choices. Lantern and pendant style accent lighting will create a rustic and inviting feel to the driveway, while recessed LEDs along the edges can give it a more modern feel. Regardless of the style you choose, you'll be helping potential buyers—and yourself—navigate more safely to and from the home in the dark.
Add Planters
If you want to boost your curb appeal but don't have time or budget for an entire landscaping overhaul, you can still add planters full of flowers and greenery. You can even set up formal topiary and hedges and up to accent your driveway quickly and easily without planting or trimming. Small citrus trees in pots are another inviting accent piece, and brightly colored flowers in pedestal containers will catch the eye from afar. You can use planters to serve as visual points of reference for the entire view approaching the home and further enhance your curb appeal.
These are just a few of the ways you can refresh and upgrade your driveway for better curb appeal. Depending on the size, design and layout of your driveway and yard, you have a lot of room to be creative with your choices. Just remember to consider safety and accessibility as well as any neighborhood building codes for every decision you make.