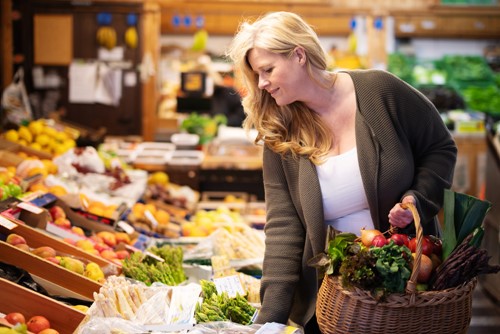 Image by Wellnhofer Designs from Shutterstock
When you're relocating you search for a property and learn the real estate market in your new area. Are you also looking at what the general cost of living is in your new city? The cost of living can be very different from state to state and city to city. Here are some common daily expenses you may want to research as part of your relocation planning.
Groceries
The cost of groceries and home goods can vary drastically from place to place. If you're moving to a new city or state your general cost of goods may increase or decrease depending on where you move. This is a cost many people don't consider when thinking about the affordability of a new area. The price of milk might be 50% more or even double the cost from where you live now. The same shampoo you purchase in California might be half of the cost in Arizona. A change in sales tax will also make a difference in what you pay for goods. To gather information about how this may impact you, check into a few retail stores in your target area (or online if you can't be local) and make some price comparisons based on the products you purchase regularly.
Transportation
Gas prices can make a difference to your monthly costs. On the coasts, prices can be as high as $4.00 or more per gallon, but in the Midwest and South prices can be under $2.00 a gallon. If you're moving to a location where gas prices increase consider those additional fill-ups when determining what commute you can manage. Is it most cost-effective for you to live further away from your workplace in a less expensive home? Does it make more sense to find a home closer to work allowing for a shorter commute or the use of a public transportation option? Consider also the amount of time you're willing to spend on your commute each day.
Food and Entertainment
The amount you spend on entertainment and dining each month may change when you move. In some places a higher minimum wage is set for service industry workers, so a lower tip percentage is common. In other locations the service industry wage is quite low, so a higher tip percentage is the norm. Explore the activities you enjoy while you house hunt to get a better idea of what differences you might experience in your new location.
Services
Finally, the cost of general services can affect your bottom line. From your new hairdresser to housekeeping services to home repair companies you could see a change in pricing. If you frequently use these types of services or would like to, consider how the average cost for them fits into your monthly budget.
These cost differences may not seem like a big factor, but they can impact your monthly expenses. If you're moving to a more affordable place you may save enough on basic goods and services that you can increase your mortgage budget. However, if you're relocating to a city with a higher cost of living, you may need to revisit your monthly budget to see what you can really afford.