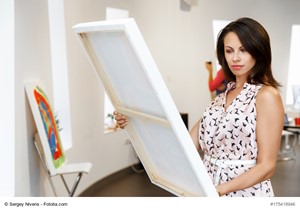 If you enjoy browsing massive art collections, you're sure to appreciate the art galleries in Florida. The Sunshine State boasts many top-notch art galleries. In fact, some of the most popular Florida art galleries are located near luxury residences, and these galleries include:
1. Fifth Avenue Art Gallery
Central Florida's premiere member gallery, Fifth Avenue Art Gallery in Melbourne offers changing exhibitions throughout the year. It also hosts an opening reception on the first Friday of each month, and this event enables you to meet and mingle with art lovers in a comfortable setting.
Of course, no discussion of Fifth Avenue Art Gallery would be complete without mentioning the gallery's extensive art collection.
Fifth Avenue Art Gallery features a large collection of fine art, crafts and handmade jewelry that you simply won't find elsewhere. As such, Fifth Avenue Art Gallery is a must-visit for art lovers of all ages.
2. Baterbys Art Gallery
Baterbys Art Gallery in Winter Park is an award-winning Central Florida art gallery. Here, you'll find exceptional artwork on display any time you visit.
In the past, Baterbys Art Gallery has hosted events to commemorate famous artists, including the legendary Pablo Picasso. It continues to celebrate the works of globally recognized artists and offers quick, easy access to many dazzling pieces of art year-round.
Baterbys Art Gallery provides a wide range of art that is available for purchase too. Thus, if you purchase a luxury home in Florida, you can visit Baterbys Art Gallery to find awe-inspiring and thought-provoking artwork to help you decorate your home.
3. Galerie du Soleil
Galerie du Soleil in Naples is a landmark fine arts destination in the Sunshine State, and perhaps it is easy to understand why.
At Galerie du Soleil, you can check out new paintings, sculptures and much more at any time. In addition, the gallery showcases art from more than 40 regional, national and international artists, which makes this venue a top choice for both new and veteran art collectors.
You can always check out the Galerie du Soleil digital library as well. That way, you can discover charming artwork that is sure to make a bold statement in any Sunshine State luxury house.
Regardless of whether you're on the lookout for distinct artwork to fill your home or simply appreciate the beauty and majesty of fine art, you're sure to enjoy a visit to any of the aforementioned Florida art galleries. And if you kick off a search for a Florida luxury house, you should have no trouble acquiring a deluxe residence near the art gallery of your choice.
Lastly, don't hesitate to contact a real estate agent to guide you along the luxury homebuying journey. A real estate agent can help you evaluate Sunshine State luxury houses and choose one that matches or exceeds your expectations. By doing so, this housing market professional will guarantee that you can enjoy a quick, seamless Florida luxury homebuying experience.